The Department of Cannabis Control (DCC) is responsible for overseeing the state of California's cannabis marketplace and ensuring that waste doesn't end up in the wrong hands. Keeping consumers' safety and health in mind, California sets forth stringent cannabis destruction regulations to gatekeep dangerous goods from making it to the shelves, the illicit market, and our landfills.
With the possibility of fines, violations, and license suspension on the line, it's crucial for cannabis manufacturers, growers, retailers, and distributors to understand the often confusing cannabis regulations, including California cannabis destruction guidelines and what it means to render cannabis "unusable and unrecognizable."
That's why we're diving deep into the basics of cannabis waste management and how to destroy and dispose of waste to remain in compliance.
California Cannabis Destruction Basics
In September 2021, the DCC adopted emergency regulations that more clearly defined when cannabis waste must be rendered unrecognizable and unusable. In the new California cannabis destruction regulations, the state now requires:
When cannabis flowers or products don't meet testing or quality requirements, they must be rendered 'unusable' before disposal.
Recalled cannabis flowers or products must be rendered 'unusable' after a minimum 72-hour quarantine prior to disposal.
All rendering of cannabis flowers and products must be done under video surveillance unless the licensee performs the rendering during active cultivation activities on premises licensed exclusively for cultivation.
Samples held by licensed testing laboratories can now be rendered unrecognizable and unusable after at least 45 business days after analysis.
Keep in mind the process of rendering cannabis goods as unusable and unrecognizable is still subject to California's cannabis waste disposal reporting requirements. That means you'll still need to adhere to standard track and trace system procedures found in section 15049 of the department's code.
But what does it mean to deem cannabis products "unusable" and "unrecognizable"? The definition of the two words is key to ensuring that you meet California cannabis waste disposal regulations. So, let's define them more in-depth next.
What Does Rendering Cannabis "Unusable" and "Unrecognizable" Mean?
Prior to cannabis waste disposal, all cannabis plant materials and by-products should be:
Deconstructed so that nobody can tell what the material is
Destroyed so that nobody can consume or use the material
The state doesn't define the terms, so without detailed guidance, licensees are left to their own devices to determine how to render cannabis waste "unusable" and "unrecognizable."
For the most part, rendering methods will vary depending on the type of product that needs to be destroyed. Some companies pour an approved detergent or grease over marijuana plant waste so that it can't be used. Others might grind materials and blend them with non-consumable solid waste until the result is a minimum of 50% non-cannabis waste.
When it comes to rendering cannabis waste unusable and unrecognizable, nobody does it better than Easy Waste Management. You couldn't tell by looking at this photo, but this bin is full of chocolate and gummy edibles from a California dispensary. Talk about "unrecognizable!"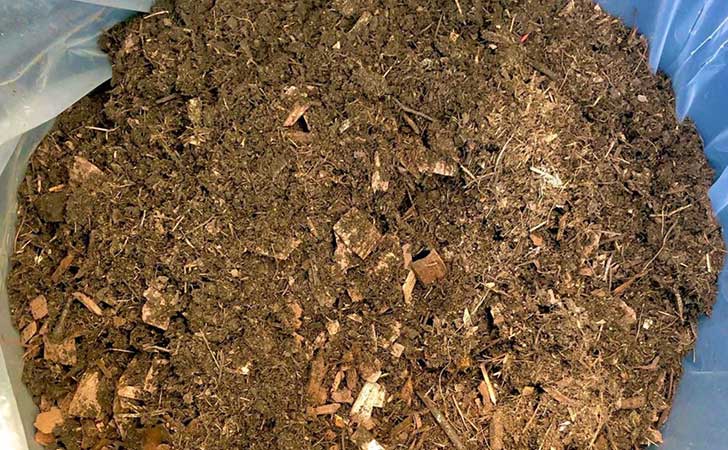 Cannabis Waste Disposal Regulations in Los Angeles, CA and Beyond
As a commercial cannabis business owner, it can be challenging to keep up with the evolving cannabis industry in California and its confusing regulations. The state is just waiting for slip-ups to charge you with hefty fines, violations, and license suspensions that will bring your operations to a screeching halt.
Don't let confusion regarding state regulations impact your business! Working with a third-party marijuana waste disposal company minimizes risk and ensures compliance. With the destruction of cannabis goods off your plate, you can focus on what's most important to you– maximizing yield and growing profits.
Ready to find a licensed hauler near you? At Easy Waste Management, we make waste compliance easy. With our team on your side, you can seamlessly navigate complex cannabis waste disposal requirements. Take the stress out of California cannabis destruction, and enjoy peace of mind that your business is compliant.
Take the time to schedule a consultation today to propel growth with streamlined operations tomorrow. Let Easy Waste Management design a custom cannabis waste management plan that works for your unique operations, budget, and regulation requirements.