Marijuana edibles currently make up 12 percent of the total cannabis market, and that number is expected to grow to 14 percent by 2020. From classic brownies to cannabis-infused coffee and tinctures, edible cannabis products have expanded both in quantity and variety over time, largely due to the legalization of recreational marijuana use. For those in the edible business, knowing how to dispose of expired edibles is crucial to staying in-line with the industry's best practices and compliance regulations.
Learning How to Dispose of Expired Edibles
Both recreational marijuana and medical cannabis users enjoy the THC intake provided by edibles. In 2019, gummies made up 49 percent of all sales of cannabis edibles and beverages in California. As you can imagine, rendering gummies unusable and unrecognizable is not a simple task. Thankfully, cannabis waste disposal companies are trained to dispose of excess edibles responsibly. Continue reading to learn things to be mindful of when selecting a hauling company, as well as the different aspects of proper edible disposal.
Find a Cannabis Waste Disposal Company
Staying up to date with the ever-changing cannabis industry is complicated enough on its own, and trying to decipher waste management legislation is an added stressor for those in the business. Cannabis waste disposal companies in California provide custom-fit waste management plans in full compliance with federal, state, and local laws. They'll drop off UN-rated waste storage containers, arrange a pick-up schedule, and provide track-and-trace reporting. By hiring an expert waste management service, you're able to remain focused on your business' day-to-day operations.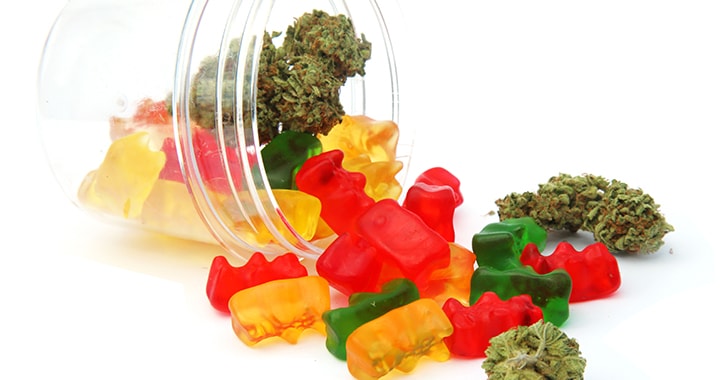 Document Your Waste
The state of California requires all cannabis cultivators to document their marijuana waste. If you use a waste management partner to pick up your cannabis waste, you must procure and maintain three records to stay in compliance with state law. First, you need a document stating the name and address of the hauling service agency. Along with that, you must be able to provide a primary contact person and phone number from the company. Lastly, to prove the waste hauler is providing waste management services for your business, you need to obtain and file all receipts and invoices.
Failure to maintain these records can lead to fines and even the loss of your cannabis license. So, it's crucial to hire a cannabis waste disposal company in California that will ensure your compliance with the law and eliminate your risk.
Know Your Environmental Impact
As cannabis decomposes, it releases greenhouse gases, which are destructive to the environment. Whether it's through cannabis recycling or composting, a professional cannabis waste disposal company can take your leftovers to a composting facility, which will ultimately reduce your carbon footprint. Improperly disposing of edibles leaves a negative impact on the climate. When you hire a company that disposes of cannabis responsibly, the landfill will always be a last resort. That means you can make a difference by merely hiring an environmentally-conscious waste management company.
If you're looking for a company to dispose of your expired edibles in California, request a free consultation from Easy Waste Management today! We dedicate ourselves to providing compliant, environmentally conscious services. You can rely on us to carry out your Waste Management Plan and ensure all your waste will be recycled, composted, and treated adequately.