The cannabis industry is booming. With forecasts projecting the total legal sales of cannabis to reach $30 billion by 2025, there are some major questions on the horizon surrounding waste management policies and regulations within the cannabis industry. Whether you're considering applying for a license or are already a part of the industry, the rapid changes and differing regulations around cannabis waste can be overwhelming for growers and business owners alike.
Cannabis Waste 101
Simply put, anything that comes in contact with THC is classified as cannabis waste. California further defines cannabis waste as a type of "special regulated waste," meaning that it has to be stored, handled, transported, processed, and tracked according to strict regulations. For this reason, whether you're a grower, extractor, producer, dispensary, or owner of a retail cannabis store, the state requires you to have a written cannabis waste management plan when you apply for your license.
Cannabis waste can vary from dirt, water, and unused plant matter during the cultivation process, to expired edibles, unused vape pens, and empty packaging. In short, if it comes in contact with THC, then at the end of the waste management process, it must be rendered unusable and unrecognizable.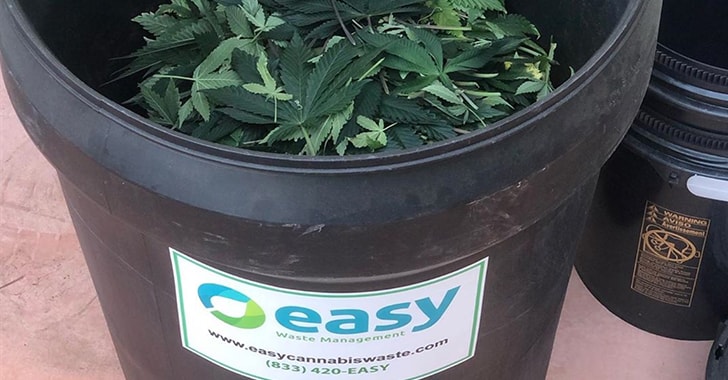 Understanding Proper Cannabis Waste Disposal
The different types of cannabis waste and ever-changing regulations within the industry can easily make developing a waste disposal solution confusing. With three separate California cannabis agencies, each with their own set of waste handling regulations, it's not uncommon to be unsure of how to start the process.
Since cannabis is still federally-classified as a Schedule 1 drug, any waste can't just be thrown away. In fact, in many ways, the rules and regulations surrounding cannabis waste disposal are similar to those for hazardous waste. Ultimately, these guidelines aim to make sure that cannabis doesn't end up in any unauthorized hands or harmful landfills.
For example, cultivators often have the largest amount of cannabis waste to process and typically have to grind and mix their waste with organic matter. While they're allowed to self-haul cannabis waste to several types of facilities, the greenest option is composting. For extractors, producers, and dispensaries, cannabis waste refers to chemicals used during processing, expired and outdated products, and more. If your business falls under these categories, then you'll need to secure a relationship with a licensed waste company.
The Future of Cannabis Waste
Although regulators are working to create a safe supply chain for cannabis waste, the environmental impact is yet to be genuinely addressed. California's mandatory Commercial Organic Waste Recycling Law requires any business that generates four or more cubic yards of solid organic waste per week to recycle their waste. Cannabis plant material qualifies under this requirement, meaning that growers are encouraged to compost. Still, this doesn't address the other aspects of the industry.
As cannabis businesses grow to meet increasing demand, so do the millions of plastic packages, tubes, and bags tossed into our landfills. In this young and closely scrutinized industry, responsible waste management is crucial. If you're in the market for a licensed waste professional, consider reaching out to Easy Waste Management! We're committed to handling the hard work for businesses, and providing environmentally-conscious and compliant cannabis waste processing to save you time and money. Request a free consultation to get started!